The large livingroom with its couch and armchairs is the perfect place to relax.
The following media services are available: internet connection, a SAT connection, a Flatscreen TV, a HIFI system with DVD player, Blutooth and WIFI.
A large sliding glass door leads to the terrace and garden on ground level.
The large and bright dining room is one of the central rooms of the holiday flat.
From this room you have direct access to the kitchen, the bedroom, the living room and the garden.
The extensible wooden dining table offers space for 6 to 10 persons. A comfortable bench with back pillows is popular especially with children. Two children's high chairs are at your disposal.
The large sideboard contains things like glasses and placemets,.
The room has a clear design and is light-flooded.
The room is decorated in a martime flair. Pictures of harbours and sand dunes together with charming accessories like little boats or gulls complete the delightful picture.
This makes a nice contrast to the orange coloured kitchen, which follows the vintage look of the 70s with its bright colours.
the weather station provides in- and outside temperatures, wind speed, air pressure, and so on.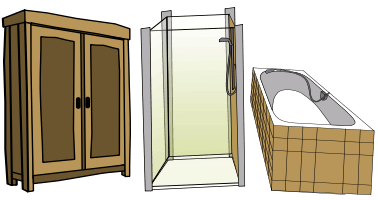 Bathroom, Toilet & Hallway
You enter the flat through a rustic hallway, which leads to the living room, the dining room, the bathroom and the toilet.
A wardrobe in the form of an antique farmer's cupboard functions as a store for jackets, coats and shoes.

In the hallway a video door intercom system helps you with opening the front door.
The terrace is made of natural stone and offers pleanty of space for guests. A large parasol provides shade and protects from rain.
A BBQ is all year available and equiped with various BBQ equipment is at your disposal.
Many species of birds are at home in the overgrown garden and can be ideally observed here. In winter, the bird house is often visited by birds. During the breeding season, various species of birds nest in the bushes and trees.